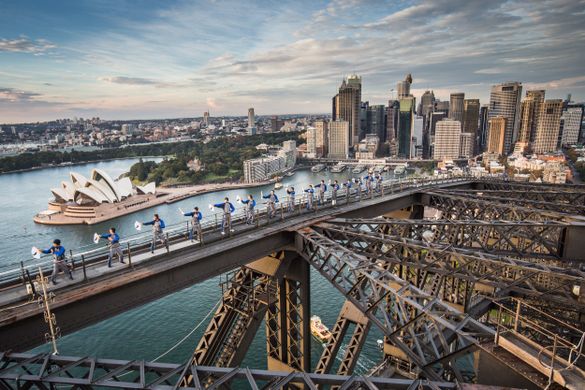 02 May 2017
First Tai Chi Event Atop Sydney Harbour Bridge as the City Wakes
Tags: Australian Academy of Tai Chi and Qigong, BridgeClimb, Tai Chi Class
---
At the break of dawn on Tuesday 2 May, BridgeClimb Sydney and Australian Academy of Tai Chi and Qigong, came together to host the world first Tai Chi class at the top of the Sydney Harbour Bridge.
134 metres above the waking city, Grand Master Gary Khor and Master Aaron Khor, who run Tai Chi schools across Australia, led a group of 14 Climbers, comprised of Tai Chi instructors and students, and health and fitness social media influencers through several serene Tai Chi sequences.
After ascending the famous arches, Tai Chi fans were securely attached to the participants for the ancient martial arts sequences, each marked with the Yin Yang symbol representing two forces coming together, often found in Tai Chi practice.
BridgeClimb hosted the event on the famous coat-hanger, itself a symbol of bringing people together, to celebrate multiculturalism through the Chinese Martial Art that serves as an important form of cultural exchange between nations.
Grand Master Gary Khor and Master Aaron Khor came on board to share their experience and passion of health through the ancient slow moving martial art.
Grandmaster Khor said, "Tai Chi is a mind-body healing art which refreshes and energise your whole being. Tai Chi is a mindful moving meditation which relaxes your body, focus your mind, and lift your spirit. Just like this uplifting feeling on top of the Sydney Harbour Bridge on this beautiful morning.
"Tai Chi brings together people of all ages and all cultures to cultivate good health, fitness, relaxation and the ability to move through life skilfully. The tranquillity found at summit of the Sydney Harbour Bridge at dawn, provided a perfect and beautiful setting for our sequences".
Loren Wattling who participates in the event said, "It was such a beautiful morning on the Sydney Harbour Bridge. Very exciting to climb to the top and take in breathtaking views of the city and then so incredibly peaceful to be taken through some Tai Chi moves at the top".
BridgeClimb was thrilled to host this multicultural health and fitness event, a further demonstration of their ongoing commitment to develop special events catering to all manner of interests, Sydney's festivals and international markets.

In the last few years, BridgeClimb has hosted special limited edition Climbs and one-off special events for local and international festivals and celebrations including, World Yoga Day, Diwali the Hindu Festival of Light, Chinese New Year, Valentine's Day and Vivid Sydney's The Vivid Climb.
BridgeClimb offers a truly memorable experience, perfect for special occasions, family adventures, team building and corporate events. For more information, please visit www.bridgeclimb.com or call (02) 8274 7777.
– Ends –

Participants available for interview on request.
About BridgeClimb:
BridgeClimb, the dream of Chairman & Founder Paul Cave, is considered a 'must-do' tourist attraction in Sydney, with more than 3.5 million people aged from 8 to 100, from more than 137 countries, having climbed the Bridge since it opened in 1998. Climbers can climb to the summit of this world famous icon on BridgeClimb, BridgeClimb Express and BridgeClimb Mandarin. Launched in response to the growing Chinese market in Australia, BridgeClimb Mandarin features local Mandarin speaking guides. They can now also climb half way to the top on BridgeClimb Sampler, launched to offer a taste of the BridgeClimb experience. BridgeClimb has won numerous awards including the 2012 'Best Guided Tour in Australia' Australian Traveller Reader's Choice Award.
About Australian Academy of Tai Chi and Qigong
The Australian Academy of Tai Chi (AATC) was foundered by Grandmaster Gary Khor back in 1976 to promote the health benefits of Tai Chi to the Australian community. To date it has taught Tai Chi to more than 200,000 Australians, from housewives to orthopedic surgeons, and trained more than 500 instructors throughout the country. Today, the AATC is focusing on research into modern era healing benefits of Tai Chi, and is involved in developing new techniques in Tai Chi for Falls Prevention, and research in Tai Chi Qigong Neuroplasticity.
About Grand Master Gary Khor
Grandmaster Khor is both founder and president of "Living Chi" The Australian Academy of Tai Chi and the Feng Shui Academy of China. An International Wushu Judge and the holder of many Wushu and Qigong qualifications. Grandmaster Khor is a world recognised author and has delivered lecture programs and other services in China, USA, South Africa and Malaysia. He is the author of many bestselling oriental health and healing books.
About Master Aaron Khor
From the age of five, Aaron Khor has been practicing the martial arts form of Tai Chi. He was first introduced to the combat and self-defence techniques by his father, Grandmaster Gary Khor. Having completed his Health Science degree at the University of Western Sydney, Aaron is currently studying Tradition Chinese Medicine at the University of Technology, Sydney. Pursuing his career and passion for health, he has dedicated his time and effort into exploring more about the ancient art of Tai Chi and Qigong.
Media contact and social media links:
Charli Beale
Public Relations Executive, BridgeClimb Sydney
Phone: +61 (0) 2 9240 1141
Mobile: +61 (0) 438 638 969
Email: cbeale@bridgeclimb.com
Jes Boatfield
Public Relations and Marketing Assistant, BridgeClimb Sydney
Phone: +61 (0) 2 9240 1190
Email: jboatfield@bridgeclimb.com
Website: www.bridgeclimb.com
Chinese website: www.bridgeclimb.cn
Twitter: @bridgeclimb
Instagram: @bridgeclimb
Weibo: @sydneybridgeclimb & @攀登悉尼大桥
Facebook: www.facebook.com/bridgeclimbsydney