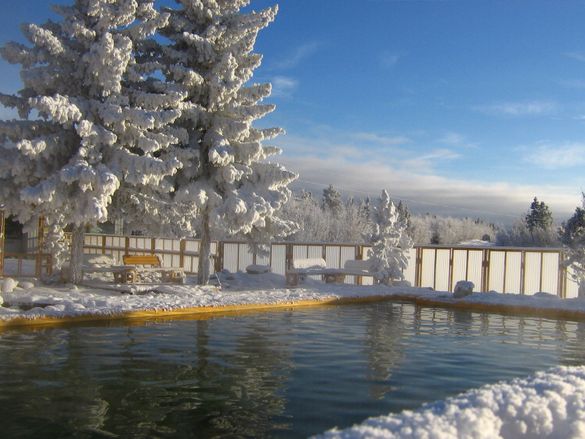 09 Nov 2021
Winter Retreats across Canada to Soothe the Soul
Tags: Canada, health, wellness, Retreats, Winter Tourism, Four Season
---
9th November , 2021 
Winter Retreats To Soothe Body and Soul
Wellness in Canada goes far beyond spas and massages. It's an embracing of the great outdoors and its seasons, particularly winter, whose longer nights and cooler temperatures offer more time and opportunities for rejuvenation of body and mind and connection with nature.
Holistic perspective: In part because of this whole-person view of health and wellness, Canada is home to 3,000 spa facilities, far more per capita than its southern neighbour. And its many wellness retreats also tend to spill far more into the great outdoors. Visitors will find that Canada's spas trend
towards holistic models, frequently combining relaxing massages, facials and other traditional treatments with meditation, overnight accommodation and invigorating forays into nature.
Health is "wellth": With spa treatments expanding into accessible, outdoor-oriented experiences, and massage therapy services partially covered by most Canadian health insurance plans, Canada's wellness culture has seen a notable shift from luxurious indulgence to essential components of personal health and wellness.
Here's where to embrace wellness culture across Canada this winter:
Water therapy: Nordic spas centre on hydrotherapy, or the use of water to treat pain and disease. Originating in Scandinavia, these spas encourage the rapid transition of the body between extremely hot and extremely cold temperatures to strengthen the immune system, eliminate toxins, and soothe aches and pains.
➢ Thermëa by Nordik Spa-Nature in Whitby, Ontario: This new wellness destination expands the traditional spa experience to an entire village, where rustic buildings are rooted in a past that was intimately connected to nature. Each corner holds a healing ritual, from steamy outdoor pools and float tanks to nutritious farm-to-table fare. However, the village is focused on thermotherapy, where alternating hot and cold submersions are enhanced by rest periods beside a blazing firepit or in a gently swaying hammock.
➢ Scandinave Spa in the Blue Mountains, Ontario; Mont-Tremblant, Quebec; and Whistler, BC: In these sprawling Scandinavian-style spas, visitors are treated to hydrotherapy in soothing (enforced) silence. Scandinave Spa Blue Mountain is situated on 10 hectares (25 acres) of pristine, forested land, with views of the UNESCO World Biosphere Reserve Niagara Escarpment. In the winter, guests soaking in the outdoor baths will catch sight of skiers carving down the slopes of nearby Blue Mountain Resort. Scandinave Whistler curves along Lost Lake Park, where the scents of spruce and cedar – along with Nordic waterfalls, cold plunge baths and wood-burning saunas – facilitate muscle-melting relaxation. And Scandinave Mont-Tremblant is located in the Laurentian forest, where guests can relax under thermal waterfalls before immersing themselves in the frigid waters of the Diable River; there's also a zero-gravity pavilion, hammocks and fire pits.
➢ Sensea in Chester, Nova Scotia: The province's first Nordic spa utilizes hydrotherapy to raise body temperature through saunas, hammams and hot baths, then cools it down using the cold plunge pool, waterfall, shower buckets and ice foundations.
➢ Kananaskis Nordic Spa in the Kananaskis Mountains, Alberta: At this enticing escape, visitors will find themselves in a zen-inducing refuge surrounded by wintry alpine scenery. Massage treatments pair with hydrotherapy sessions, steam rooms, banyan and barrel saunas, and a Turkish hammam to deliver an off-the-grid experience.
➢ Balnea Spa in the Eastern Townships, Quebec: A short drive from several ski hills, guests can seamlessly transition from slopes to forest, thanks to an exquisite network of hiking and snowshoe trails. In addition to Nordic hydrotherapy offerings, the spa includes a forest-side hammam (steam baths), a comprehensive massage menu, and a restaurant serving seasonal fare.
Wellness weeks: Canadian wellness retreats are redefining the definition of "spa" by including centuries-old rituals, such as massages, body wraps and facials, in multi-day itineraries alongside snowshoeing, meditation and mountain climbing.
➢ St. Anne's Spa in Grafton, Ontario: This rustic spa is set in an 1800s fieldstone heritage country castle, amid 202 hectares (500) acres of wild-crafted gardens, farmland and winding woodland. Guests who choose to stay overnight in the idyllic setting can opt for an all-inclusive package, which includes access to therapeutic facilities like an outdoor hydrotherapy facility, complete with hot tubs and waterfalls; hearty country cuisine; and rejuvenating wellness classes and spa treatments.
➢ Le Monastère des Augustines in Quebec City, Quebec: An enclave of wellness and culture, this retreat specializes in holistic health, with a history of mind-and-body healing stretching back nearly four centuries. Part of the Hotel-Dieu de Quebec monastery, a World Heritage Site, the monastery is spiritual rather than religious, with multi-day retreats centred on rest, renewal and self-discovery. In addition to accommodation in restored cloisters, the facility's packages include silent vitality breakfasts, access to the onsite museum, massages, health consultations and daily meditation.
➢ Azuridge Estate Hotel in Calgary, Alberta: The hotel's new Flourish spa offers a year-round retreat for visitors seeking personal growth and alternative methods to achieve wellbeing. Flourish blends the healing powers of crystal energy with essential oils, reiki treatments, massage, meditation and yoga, nature trails, fitness regimes and holistic nutrition for an all-encompassing wellness journey personalized to each guest. The spa features several unique areas, including a self-love loft accessed by a twisting wooden staircase that offers a calming venue for mediation, yoga and journaling.
Short breaks: Canada's hotels and resorts are stepping up their winter wellness game by welcoming travellers into transformative spaces that promote a healthier mind and body.
➢ Fairmont Chateau Lake Louise in Lake Louise, Alberta: The wild spaces of the Canadian Rockies and Lake Louise can trigger awakening experiences. Guests of the Fairmont Chateau Lake Louise are invited to pursue these wellness opportunities during winter retreats that incorporate mindfulness, tension and stress release, and self-care, along with snowshoeing, yoga and skating on the frozen lake.
➢ Muir Hotel in Halifax, Nova Scotia: Travellers desperate to de-stress can seek sanctuary at Windward Wellness, the spacious wellness centre at Muir Hotel, which opens in November 2021. Here, rejuvenating spa treatments await, paired with vitality cold-plunge pools; a halotherapy salt room, whose air is infused with Atlantic salt; a eucalyptus steam room; and an infrared sauna. There's also yoga, spin bikes and HIIT classes.
➢ Le7ke Spa in Chase, BC: Located in Quaaout Lodge & Spa at Talking Rock Golf Resort, this spa shares the spirit of the Shuswap through healing treatments that incorporate elements of nature – for example, hot stone massages use rocks that were handpicked from the shorelines of Little Shuswap Lake, and massage oils are crafted with local organic botanicals. Guests can also take part in a healing smudge ceremony, walk the lands with a First Nations guide and hear Kekuli storytelling.
➢ Northern Lights Resort and Spa in Whitehorse, Yukon: Indulge in a spa experience like no other in one of few places where massages are paired with the greatest light show on earth. Here, guests can soak in the outdoor Jacuzzi, detox in the infrared spa and bliss out with a deep-tissue massage, before curling up on the deck and watching the haunting aurora borealis take over the sky.
➢ Willow Stream Spa in Banff, Alberta: Part of the Fairmont Banff Springs hotel, the 3,530-square-metre (38,000-square-foot) Willow Stream Spa is a wellness wonderland boasting three waterfall whirlpools, an indoor mineral pool, saunas, steam rooms, a lounge complete with a cozy fireplace, and 16 massage rooms.
Spotlight: A Vancouver Island Wellness Itinerary
With its laidback lifestyle and multitude of spas, Vancouver Island is a perfect choice for a wellness retreat, banishing stress and nourishing the senses. Science has shown that time spent in nature has healing properties. BC even calls it the BC Effect. You'll need to rent a car for this cross-island spa itinerary.
To get to Vancouver Island from Vancouver, you can take the ferry from Tsawwassen or Swartz Bay or take a 30-minute flight on a small floatplane into Victoria harbour—one of Canada's iconic experiences. From Victoria, drive to Langford (30 minutes), a charming city whose temperate climate is idyllic for outdoor exploration year-round.
➢ Head straight to the newly renovated Amatista Spa at Bear Mountain Resort, where you can golf a few rounds before settling in for a rejuvenating treatment.
➢ Try: The West Coast Body Wrap incorporates Pacific Ocean seaweed, sea salts and green tea, as well as a Canadian Glacial Clay mask harvested from the mountains of Vancouver Island.
Next, head to Parksville-Qualicum Beach (less than two hours), whose salt-tinged ocean air, sandy beaches and lush hiking trails are a panacea for tension or anxiety.
➢ Unwind at the award-winning Grotto Spa at Tigh-Na-Mara Seaside Resort & Conference Centre. When you book a spa package, you'll receive access to the property's enchanting Grotto Mineral Pool, where a cool-splash waterfall and warm water pool await; the waters are infused with natural minerals and trace elements to detoxify the body, soothe muscle and joint aches, and stimulate the metabolism.
➢ Try: The Soak Sip & Savour package includes full access to the mineral pool, and a charcuterie platter and drink of your choice that you can enjoy fireside in the tranquil Relaxation Lounge.
➢ Bonus: If you're visiting between April and October, pop by Avancea, a cozy backyard spa that employs sustainably harvested seaweed to nourish the skin, mineral salts to purify and release tension, and botanical oils to balance emotional energy.
Finally, head north to Comox Valley (50 minutes), where winter activities are centred around Mount Washington Alpine Resort.
➢ After playing in the snow – the mountain receives more than 11 metres (36 feet) each year, one of the biggest annual snowfalls in North America – powderhounds can recover at Kingfisher Oceanside Resort and Spa, situated in the coastal rainforest.
➢ Try: The property's luxurious Pacific Mist Spa uses ingredients harvested from the sea, as well as the Pacific Mist Hydropath, whose hydrotherapy offerings span a waterfall massage, steam cave, river walk and sea mineral soak.
If you've got another day or two, hop aboard a ferry (check sailing times and book via BC Ferries website) and cruise throughout the Southern Gulf Islands, where healing awaits at every destination.
➢ On Salt Spring Island, Solace Organic Spa offers massages and therapies amid a peaceful forest garden. Stay overnight at Hedgerow House, an adult-orientated oasis with an emphasis on sustainability.
➢ Or, on Pender Island, glamping resort WOODS is situated on 2.9 hectares (7.3 acres) of forested land, beckoning the outdoor curious with a natural getaway that doesn't stray far from everyday comforts.
IMAGES :  Yukon Hot Springs
Credit : Andrew Umbrach
For more information on Canada go to www.explore-canada.co.uk
For more media information and images  on Canada go to www.destinationcanada.com/media (not for publication) 
For more information please contact Ms.Nim Singh, Media and PR Manager, Destination Canada, singh.nim@destinationcanada.com (Not for publication)