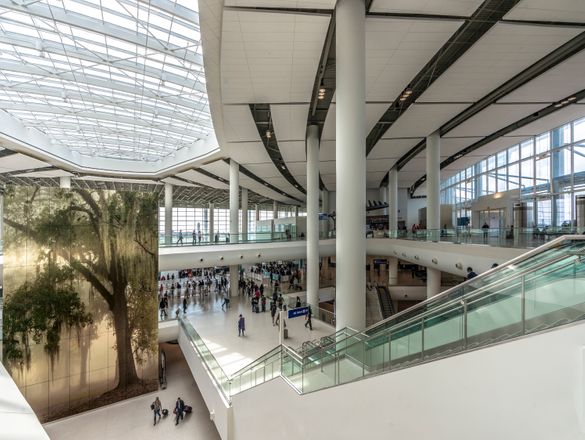 18 Sep 2021
What's New in New Orleans 2021-2022
Tags: New Orleans, what's new in new orleans
---
 HURRICANE IDA UPDATE:
Fortunately, the flood protection system designed after Hurricane Katrina worked as planned for the City of New Orleans during Hurricane Ida. New Orleans is okay, resilient and open. However, our neighboring parishes have a much longer road to recovery and are hearts are with them.
The best thing you can do to help our fellow Louisiana citizens is to plan, or keep, your visit this fall. Tourism is our largest economic driver, but more importantly, it is the essence of who we are and what we do.
A full list of Ida relief efforts here.

HOTELS:

ATTRACTIONS:

NEW DEVELOPMENTS:
Louis Armstrong New Orleans International Airport's new, $1 billion world-class terminal complex opened in November 2019 and is the first of its kind to be built in more than a decade.

The 972,000-square-foot terminal, which completely replaced the old facility, features three concourses, 35 gates, improved passenger experience with a consolidated checkpoint for ease and efficiency going through security.
New food, beverage, news, gift and specialty retail options have been designed to appeal to locals and visitors alike. Visitors can enjoy local icons like Emeril's, Leah's Table, Fleurty Girl and Dirty Coast in addition to nationally recognized brands like Shake Shack, Starbucks and Panda Express. This mix of concessions provides something for everyone at all price points.

Bollinger Canopy of Peace at The National WWII Museum, currently under construction, will soon serve as a new landmark on the New Orleans skyline.

The iconic architectural structure will rise 148 feet above the center of the institution's campus. After sundown, a state-of-the-art lighting system will transform the Canopy and its support legs into a stunning nighttime landmark for the city.
The Canopy is made possible by a generous donation from longtime WWII Museum Board of Trustees member Boysie and Joy Bellinger.

Ernest N. Morial Convention Center New Orleans (MCCNO)

The multi-modal transportation center has opened at MCCNO. This is the first completed phase of the $60+ million linear park developments along Convention Center Boulevard.

All buses, shuttles, taxis and ride-shares will now pick-up and drop-off all passengers here, improving public safety and convenience of residents, local commuters and event attendees by eliminating shuttles, taxis and ride-shares on the main roadway

The new Pedestrian Park is currently under construction along Convention Center Boulevard.

The Boulevard will be landscaped and lit with outdoor seating along the entire length of the Center connecting pedestrians from both ends of the building as well as the Transportation Center.
Full list of developments here. 

UPCOMING EVENTS:
 
RESTAURANTS:
Mister Mao is a new tropical roadhouse on Tchoupitoulas in the Garden District.

Unapologetically inauthentic, Mister Mao is serving up locally sourced, global flavors through refined small plates.

John is a new restaurant opening on Decatur Street in the French Quarter.

Opening in September, St. John is owned by esteemed Chef Eric Cook.
Cook's menu will draw influences from the melting pot of cultures that lent traditions, flavors, ingredients, and cooking styles to the city- Italian, French, African, German and Caribbean.


AIR LIFT:
Air Transat is resuming seasonal service from Montréal to New Orleans starting on Thursdays and Sundays from Nov. 4th to April 24th.
Air Canada is resuming their direct flight from Toronto in November.
MSY saw its first international flight since COVID began with Southwest's nonstop service to Cancun on April 17th.
Spirit launched new international service to Cancun and San Pedro Sula, Honduras in July.
Alaska Airlines announced a plan to add direct flights from Portland to New Orleans starting in December and running through April 2022.
Jet Blue announced service to LaGuardia in the 1st Quarter of 2022.
American Airlines launched new daily service to Austin on May 6th.

COVID SAFETY:
Since the beginning of the COVID pandemic in 2020, New Orleans & Company has promoted the highest safety protocols and strongly encouraged visitors to follow guidelines for masking, social distancing, and vaccines for the safety of all who choose New Orleans as a city to live, work and visit.
As of September 16th, 81 percent of eligible New Orleans adults have initiated a covid vaccine (meaning they received their first of two does), which is higher than the US average of 74 percent.
5 percent of eligible New Orleans adults are now full vaccinated, which is higher than the US average of 63.3 percent.
More information on New Orleans & Company COVID safety here.

New Orleans & Company Media Contacts:
Kelly Schulz
Senior Vice President, Communications & Public Relations
kschulz@neworleans.com, 504-421-0962
Lauren Cason
Director of Marketing & Communications
lcason@neworleans.com, 504-729-7743
                                                                                         
###