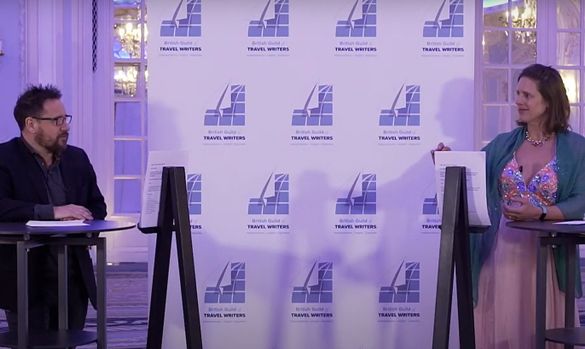 20 Apr 2021
Congratulations! BGTW Announces Results of Annual Members' Excellence Awards and International Tourism Awards
---
All the winners of the BGTW Members' Excellence Awards have been announced at 'BGTW's Really Big Reveal', a 40-minute online broadcast on Sunday 18 April. The broadcast also saw the announcement of the winners of all 13 BGTW Members' Excellence Awards (MEA), the four BGTW International Tourism Awards (ITA), and the Charleston Writers' Awards. 
The broadcast was made possible thanks to support from Tenerife Tourism, with additional sponsorship for the MEA from Explore Charleston, and for the ITA from Travel Connection Group. It was recorded at The Savoy hotel in central London. Also appearing were Franck Arnold, the managing director of The Savoy, David Perez, CEO of Tenerife Tourism, and Doug Warner, director of media relations at Explore Charleston.
Commenting on the broadcast, Stuart Render, BGTW's awards director, says: "In any normal year we would have announced our award-winners at our Annual Gala Awards Dinner. With the 2020 event postponed to 31 October we didn't want to wait. But we also wanted to produce something a little different, and to break away from the traditional Zoom-style of awards presentation.
"Thanks to some magnificent creative input from Guild member Jon Holmes, the camera and editing prowess of Michelle Tofi, presenting gigs by Guild members, and the involvement of The Savoy and Explore Charleston, we were able to deliver an entertaining and light-hearted broadcast that followed on from our 'Big Reveal' broadcast last November.
"I'd like to give my heartfelt thanks to everyone involved in bringing this project to fruition, as well as offering my congratulations to all our winners. We now look forward to all getting together at The Savoy on Sunday 31 October for 'BGTW's Annual Gala Awards Dinner – A Celebration of Travel.' The event, empowered by Tenerife Tourism, will be an opportunity to network, reward and reconnect, something I feel we're all really looking forward to. You'll be hearing more about all of that in the months ahead."
And the winners are...
BGTW Members' Excellence Awards (as judged by 30 international judges):
Travel Feature of the Year – UK:

Nigel Tisdall

 

Travel Feature of the Year – non UK:

Adrian Phillips

Travel Feature of the Year – Regional 

and Specialist Media:

Meera Dattani

Specialist Travel Feature of the Year 

– the Bryn Frank Award: S

ue Watt / 

Ellie Cobb Highly Commended

Transport Feature of the Year 

– The Kenneth Westcott-Jones Award:

James Stewart

Travel Book of the Year 

- The Adele Evans Award: 

Emma John

Travel Photo Feature of the Year:

Simon Urwin

Travel Blog Post of the Year:

Bella Falk

Travel Broadcast of the Year:

Cassam Looch
BGTW Travel Blogger of the Year:

Richard Collett

BGTW Travel Broadcaster of the Year:

Aaron Millar 

BGTW Photographer of the Year:

James Rushforth

BGTW Travel Writer of the Year:

James Stewart
BGTW International Tourism Awards (as voted for by BGTW members):
Best UK and Ireland Tourism Project: 

Mayflower 400: Legend and Legacy, The Box, Plymouth, Devon

Nominated by Alex Green and Lynn Houghton
Best Europe Tourism Project: 

Juliana Hiking Trail, Slovenia

Nominated by Rudolf Abraham
Best Wider World Tourism Project: 

Partition Museum, Amritsar, Punjab, India

Nominated by Meera Dattani
The Armchair Award: 

Visit Faroe Islands: Realtime Tour, Live Guide
Charleston Writers' Awards
Joint first place to Juliet Rix and Jonathan Thompson
Second place to Kathryn Tomasetti
For full details of all the award-winners, go to bgtw.org