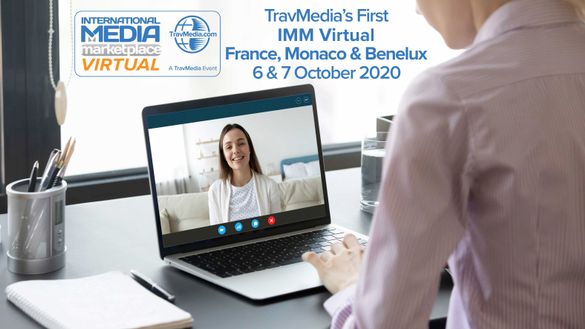 11 Aug 2020
TravMedia Launches the Inaugural IMM Virtual France, Monaco & Benelux
Tags: #IMMVIRTUAL, #TravMedia, #networking, #tourism
---
10.08.2020 – In response to COVID-19, TravMedia announces the launch of the inaugural IMM (International Media Marketplace) Virtual France, Monaco & Benelux on 6 and 7 October 2020.
TravMedia's International Media Marketplace is the travel industry's leading media networking event connecting travel and tourism brands with Europe's top-tier media titles. This breakthrough program provides destinations, hotels, and operators to develop meaningful relationships with key media contacts, all through the comfort of their own computer.
Pivoting to become IMM Virtual, this two-day virtual event will enable the industry to reboot travel through 16, pre-scheduled, one-on-one appointments with top travel journalists, editors, and broadcasters to discuss their news, opening plans, and pitch post-coronavirus stories.
IMM Virtual will offer the opportunity for journalists to fill their notebooks with ideas, stories, and contacts in this new post-COVID world. It will enable them to plan their next years' worth of stories, features, and press trips without leaving their offices. Media attendees will have the opportunity to meet some of the world's biggest travel brands from hotels, cruise companies, tour operators, and tourist boards to hear how they've combated coronavirus and their plans to promote their products post COVID-19.
IMM Virtual is the same format you know and trust, now run through TravMedia's bespoke Media Marketplace platform enhanced with video conferencing capabilities. A total of 16, pre-scheduled appointments will be held across four one-hour sessions on 6 and 7 October providing attendees a unique opportunity to network and initiate concrete projects after these challenging months.
"Now, more than ever, we need to connect as an industry to uncover great stories and promote travel. This new virtual event will be the ideal tool to relaunch post-COVID communications within the tourism industry for the end of 2020 in anticipation of the return of IMM Paris in March. As for journalists, they will easily find ideas for stories and reports from all over the world without leaving their offices," said Karine Foraud, Managing Director of TravMedia France, Monaco & Benelux.
TravMedia launched the inaugural International Media Marketplace in 2013 held in the UK and Australia, following years of successfully hosting media marketplaces at tradeshows around the world. Since then, the International Media Marketplace has been successfully held
in Australia (Sydney and Brisbane), Asia (Macau and Singapore), USA (New York) Brazil (San Paolo), UK (London), Germany (Berlin), and most recently France (Paris).
"Our new virtual concept trades on the success of 15 years working with trade show operators and hosting our own events. It's a natural progression to move our International Media Marketplace virtually during these unusual times, " said CEO and Founder, Nick Wayland.
Registrations for the inaugural IMM Virtual France, Monaco & Benelux are now open for exhibitors and accredited media users. More information is available at https://travmedia.com/immvirtualfrance/
The Early Bird pricing is available until 16 August 2020.
TravMedia's IMM is the leading travel industry event to meet the media. IMM Virtual Germany will be held on 29 & 30 September, IMM Virtual France, Monaco & Benelux on 6 & 7 October, IMM Virtual Australia on 21 & 22 October, IMM Virtual Asia on 27 & 28 October and IMM Virtual USA on 27-29 January 2021.
-EDITOR'S NOTES -
TravMedia is the travel industry's only global media network. Founded in Sydney in 1999 by Nick Wayland, a former travel editor seeking an easier way to research and report travel news, TravMedia is the one-stop solution trusted by travel PR professionals and media to network and share press releases, stories and ideas. The platform has created thriving online communities and become an essential daily tool to collaborate and develop long-lasting relationships like never before.
TravMedia is now established in nine countries, serviced by twelve offices, and connects over 45,000 travel professionals including 25,000 editors, journalists, and influencers in all corners of the world. TravMedia services include IMM (International Media Marketplace),
The TravMedia Summit, TravTrade, and the new bespoke tools Media Intelligence and
Influencer Manager. For more information visit: www.travmedia.com/
- END -
TravMedia contacts for France, Monaco & Benelux:
Joanna Golebiowska
Regional Account Manager
Phone: +33 (0)764.70.2000
Email: Joanna.Golebiowska@travmedia.com
Karine Foraud
Regional Managing Director
Phone: +33 (0)762.30.2000
Email: Karine.Foraud@travmedia.com