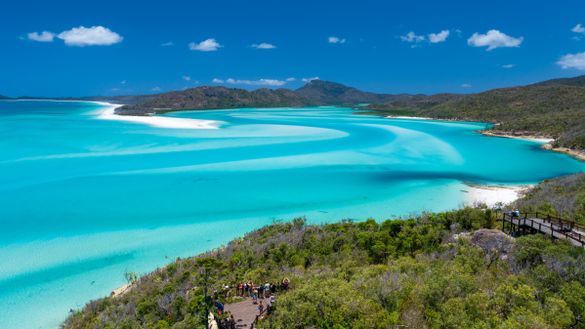 02 Apr 2019
The Whitsundays Is Back With New Experiences, Accommodation And Island Resorts.
Tags: The Whitsundays, Tourism And events Queensland, Islands, New hotels, new attractions
---
After the rain, comes the rainbow. And in this case, the pot of gold can be found in the 74 islands throughout the Whitsundays as they get set to make the ultimate comeback in 2019.  April 10 sees the much-anticipated opening of Daydream Island Resort followed by the reopening of the iconic Intercontinental Hayman Island Resort on July 1. It's all part of a masterplan to polish Australia's favourite island resort destination following the devastating weather events of 2017. 
Daydream Island, Whitsundays (Opening April 2019):  Australia's much-loved Daydream Island Resort will reopen on April 10, 2019 offering 277 revamped guest rooms and suites (with garden, pool and ocean views), three new signature restaurants led by Bradley Martin and Adrian Tyler, a gin bar, and a swim-up bar serving classic poolside cocktails. The reopening follows an extensive US$71 million redevelopment. https://www.daydreamisland.com/
Hayman Island Resort by InterContinental (Opening July 2019) One of Australia's most iconic – and exclusive resorts - Hayman Island Resort by InterContinental - is set to officially reopen July 1, 2019. The resort will feature 166 elegantly renovated guest rooms and suites across three spacious accommodation wings, impressive event and wedding venues.  http://hayman.com.au/ 
Elysian Retreat, Long Island (Opened January 2019): Nothing says "hello holiday" more than a secluded Great Barrier Reef island with gently swaying palm trees and cute beach bures in between. So, say hello to Elysian Retreat, a 10-bungalow blissed-out getaway on three hectares of private cove at Long Island in the Whitsundays.  www.elysianretreat.com.au
Freedom Shores Resort, Mainland (Opened October 2018): After three years in the making, Freedom Shores boutique resort opened in late 2018 in a hidden valley just north of Airlie Beach. Sitting at the crest of a small rise are nine boat shaped bungalows offering designer nods to seafaring vessels like timber decking, ocean views, and padded headliner roofing. One bungalow has been cleverly crafted from a trawler, drydocked and reincarnated into a one-bedroom cabin. Just metres from the cabins lie Northerlies Beach Bar and Grill, a restaurant with a popular cocktail bar crafted from General Douglas MacArthur's WW2 vessel and palm trees sourced from the set of the Pirates of the Caribbean movie filmed in Queensland. http://freedomshores.com.au/
Camp Island, Bowen (Opened late 2018):  Sitting just three kilometres off the coast of Abbott Bay, 1.5 hours' drive north of Proserpine Airport, the 2.4-hectare resort-style Camp Island offers up to 14 guests the chance to lap up private beaches and 15 hectares of national park available only for exclusive hire. In true Queenslander style, the Bungalows are timber-clad inside and out, with a king or twin-share bed, ensuite and large French doors. A walkway connects each Bungalow to the luxurious Main Guest Lodge with kitchen and living areas and dining space to sit and enjoy the views of surrounding Abbot Bay. www.campisland.com.au
HOTEL UPGRADES
The Cinderella effect of Airlie Beach continues with the re-opening of the hugely popular Airlie Beach Hotel in August 2018 following extensive refurbishment, a $6 million revamp of Blue Horizon Resort, a $5 million overhaul of at Waters Edge Resort and a $1.6 million retread to Coral Sea Resort and Beach Houses. Not to be left out, the family friendly BIG 4 Adventure Whitsundays, which celebrated 25 Years of ownership last year, unveiled seven new two-bedroom cabins in time for Christmas, while Mirage Whitsundays opened an in-house restaurant and spa, plugging a much-needed pamper gap around Shingley Beach.
PIPELINE PROJECTS
One to keep on the watch list, Lindeman Island is sitting pretty with a proposed $583-million-dollar project due for a 2022 completion. The 325-suite and villa project spread over three world-class tourism resorts includes the redevelopment of the old Club Med resort into a 136-suite 5-star Beach Resort, a brand new 6-star and 59-villa Spa Resort, a 5-star Eco Resort and a 4-star 89-room Tourist Villa Precinct. The island resort will boast a day spa with private treatment pods overlooking the ocean, a retail village precinct and a private airstrip. www.lindeman.net.au
NEW ATTRACTIONS AND TOURS
Heart Reef Pontoon: Designed exclusively for small groups arriving by helicopter, the all new Heart Reef Pontoon provides a three-hour reef experience including a glass bottom boat tour of Heart Reef Lagoon, all snorkeling equipment, light catering, sparkling wine and water.
Fly & Cruise Express Package See the Whitsundays from above and below in an eight-hour tour that includes a 60-minute scenic flight over Hill Inlet, Whitehaven Beach, Heart Reef and the Whitsunday Islands, followed by six hours aboard Sea Spirit for a day of snorkelling, stand-up paddle boarding and exploring Whitehaven Beach. Prices start from $299 for kids ages 3-14 and $329 for adults.  www.gslaviation.com.au/airlie/index
Sail away, Whitsundays style: Cumberland Charter Yachts have introduced a second Aquila 44 power catamaran into their fleet. At 13.44m in length, this luxury catamaran features three large cabins with ensuites, alfresco dining space in the cockpit and on the oversized flybridge and creature comforts like a Nespresso coffee machine, TV, iPod dock, stove and a microwave oven. The Aquila 44 sleeps up to eight passengers and is available from $1260 to $2060 per night, based on a seven-night charter. www.ccy.com.au/Aquila44/
Whitsunday Gold Coffee: Australia's largest coffee plantation returns after extensive refurbishment and redevelopment, showcasing the whole coffee process, from bean to roast to grind to cup. The site will house one of the biggest under indoor children's play areas in the Whitsunday region.
INFRASTRUCTURE UPGRADES
Construction of The Shute Harbour Restoration started March 2019 and features a new seawall, a two-floor terminal with views over the water, café facilities, a new carpark, new public amenities, landscaping and three finger pontoon jetties, including a designated recreational fishing pontoon.
The $6.3 million Airlie Beach Foreshore Revitalisation will create a high-quality seaside community hub with a Skywalk playground and multi-level Pirate Ship, two Sky Cabins, and three gigantic slides. The Revitalisation als includes 120 market stall sites, sound stage, new shaded umbrellas and landscaped gardens.
A Haselwood Island Lookout started late 2018 will add a shiny new vantage point to this Hollywood backdrop (Haselwood Island was a pivotal scene for Pirates of the Carribean: Dead Men Tell No Tales) and will add to the two platforms at Hill Inlet Lookout.
The northern towns of Proserpine and Bowen have benefited from the opening of a $1.7 million a new recreation centre with exciting water sports features, new accessible jetties, camping facilities right near Lake Proserpine, where 'glamping' cabins are being created.
2019 will also see two new walks, as well as several restored tracks, to the region. The new walking track at picturesque Border Island follows a steep ascent from Cateran Bay before meandering along the island's saddle to enjoy postcard worthy views. Meanwhile, the camping area at Whitehaven Beach is undergoing major upgrades and will provide a superb based for a 20km long-distance walking track to the summit of Whitsunday Craig, the fourth highest peak on the island.
-- ENDS --