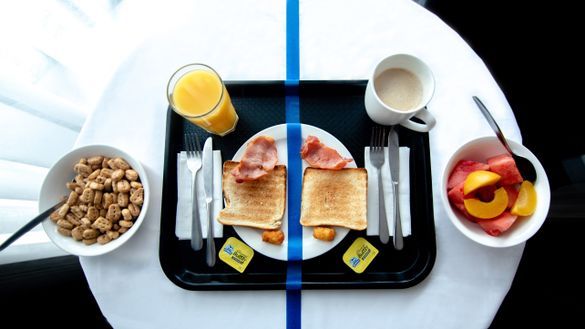 01 Apr 2019
Travelodge Hotels Launches Bedshare Service and the Doonas Are Divided #AprilFools
Tags: TFE Hotels, Travelodge hotels, Travelodge ANZ, Travelodge, April Fool's Prank, Travelodge Hotel Sydney
---
AUSTRALIA: Travelodge Hotels has just announced Bedshare – an exciting new room share option – that will be rolled out through their Australian and New Zealand hotel properties this April. The concept has impressed guests so much so, they have been asking, why hasn't anyone thought of it before?
Bedshare is the hotel industry's contribution to the booming share economy and promises up to 50 percent discounts for guests willing to share 50 percent of their rooms and amenities with another guest.
The Bedshare feature, first trialled across at Travelodge Hotel Sydney earlier this week, will be rolled out nationwide from 1 April, with hundreds of guests expected to partake over the Easter period alone.
How will Bedshare work?
The concept is refreshingly simple.  The Bedshare option differs from a standard hotel check-in, in that guests can be paired with travellers that are checking in and out at a similar time. And, if they decide to extend their stay, someone else can replace their previous Bedshare buddy in their room.
Travelodge Hotels are known for offering comfortable beds, rooms with modern, well designed interiors and public spaces where guests can feel free to hang about. With Bedshare, as well as sharing a room, meal and all amenities (including towels and toilet paper) team members go to the effort to mark literally everything down the middle, a move which guests are equally happy about.
When requesting the Bedshare option, guests will be given be a price estimate and general details about their room companion. As per other services price increases will apply, dependent on the demand.
A Spokesperson for Travelodge Hotels said that the Bedshare was a strategic move aimed at capitalising on the share economy boom. "We are about making things refreshingly simple for our hotel guests and if making friends and cutting costs is important, then we are willing to make it happen.  
"We have also received feedback that by using our Bedshare option, businesses are not only cutting costs to their staff travel costs but giving their employees a chance to meet new people on the road."*
Inspired to book your next stay using Bedshare? Visit https://www.travelodge.com.au/aprilfoolsday
Ends.
*This April Fool's Day gag is not in any way affiliated with the Travelodge brand outside of Australia and New Zealand.
ABOUT TRAVELODGE HOTELS 
Travelodge Hotels makes a hotel stay Refreshingly Simple. These 18 hotels in city locations around Australia and New Zealand with more in the development pipeline offer great accommodation, high speed Wi-Fi and a relaxed feel with all the essential comforts. Guests will find a warm and honest sense of humour in everything Travelodge Hotels does. These are places where people enjoy exceptional locations and options to enhance their stay.  

Travelodge Hotels makes everything from the booking process to room keys and check-out effortless, giving "more of what you want and less of the things you don't". A down to earth attitude is evident in hearty breakfasts, easy Grab & Go snacks and drinks at the lobby. travelodge.com.au 
ABOUT TFE HOTELS
TFE Hotels (Toga Far East Hotels) is an international hotel group operating in Australia, New Zealand, Germany, Denmark and Hungary. It has a portfolio of five established hotel brands - Adina Hotels, Vibe Hotels, Travelodge Hotels, Rendezvous Hotels and TFE Hotels Collection. 

FOR MORE INFORMATION CONTACT:
Casey Stanton or Courtney Raine
FRANK PR (on behalf of TFE Hotels)(02) 8202 0555 / tfehotels@frankpr.com.au 

Jodi Clark
TFE Hotels (Public Relations and Communications)
(02) 9356 1048 / jclark@tfehotels.com
https://www.tfehotels.com/en/about/media-lounge/