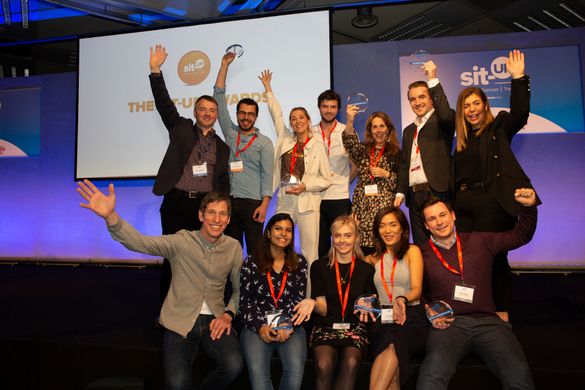 28 Mar 2019
sit-UP Award Winners Announced at Finale of Inaugural Travel Influencer Event
Tags: travel, Tourism, event, influencer, London, sit-UP, qeii centre, Travmedia, travmedia event, networking, conference, Awards, influencer marketing
---
TravMedia's Influencer Conference, Marketplace & Awards attracted over 175 influencers in its first year
The winners of the first-ever sit-UP travel influencer awards were announced at TravMedia's first sit-UP event on Tuesday in London.
Alex Zouaghi triumphed as Travel Influencer of the Year, for his social activity as A on the Road, at an event attended by over 175 influencers.
Multi-award winner David Reilly (Life of Reilly) scooped Vlogger of the Year, while Archana Singh (Travel See Write) received the Blog of the Year trophy.
Charlie and Jess were named as Disruptors of the Year for The Travel Project, while travel writer Susan Schwartz secured the Rising Star award for her Lush Life Manual blog.
The two brand categories went to Sandals Resorts UK for Influencer Marketing Campaign of the Year, while Martinhal Family Hotels & Resorts secured Travel Brand of the Year. Wow Air received an honorary mention for its work.
sit-UP combined a morning conference, afternoon Travel Influencer Marketplace where influencers pitched to brands and the evening awards ceremony and after-party. More than 275 people attended sit-UP in total.
The event took place the day after TravMedia's IMM at the QEII, the market-leading event connecting journalists with the global travel industry.
Said Henry Hemming, Managing Director of TravMedia UK:  "sit-UP's format of conference, marketplace and awards drew crowds beyond our expectations for a first-year event. The conference speakers were of the highest quality, the marketplace was packed, and the awards party sponsored by VisitBritain was spectacular!"
SIT-UP AWARDS: WINNERS AND SHORTLISTS 
Travel Influencer of the Year
Alex Zouaghi - A on the Road - WINNER        
Chloe Gunning - Wanderlust Chloe
Cory Varga - You Could Travel       
Leyla Kazim - The Cutlery Chronicles         
Sophie Davis - Sophie's Suitcase    
Vlogger of the Year
Alex Outhwaite - A Life Well Travelled        
David Reilly - Life of Reilly - WINNER
Garlen Lo - Modern Grand Tour with Garlen Lo         
Disruptor of the Year
Abigail King - Inside the Travel Lab
Charlie and Jess - The Travel Project - WINNER
Sophie Davis - Sophie's Suitcase              
Rising Star of the Year
Chloe Marchant - Creatively Clo     
Jenni Sheldon - Travel to Recovery
Lavina Dsouza - Continent Hop      
Nadia & Mike Elizabeth - Couple Travel the World          
Susan Schwartz – A Lush Life Manual - WINNER                  
Blog of the Year
Andrew Sim and Emily Gough - Along Dusty Roads        
Archana Singh - Travel See Write - WINNER
Emily Luxton - Emily Luxton Travels           
Macca Sherifi - An Adventurous World       
Paul Johnson - A Luxury Travel Blog          
Influencer Marketing Campaign of the Year
Antigua and Barbuda Tourism Authority     
Sandals Resorts UK - WINNER
TrekAmerica  
VisitBritain        
Travel Brand of the Year
Host Unusual 
Martinhal Family Hotels & Resorts - WINNER
Rough Guides           
sit-UP 2019 Travel Influencer Marketplace Exhibitor Brands: AMResorts, Austrian National Tourist Office, Bournemouth & Poole Tourism, Calgary Stampede, Catalonia - Catalan Tourist Board, Cayman Islands Department of Tourism, Classic Cottages, Cook Islands, Cultural Heart of Germany, Daytona Beach Area CVB, Destinations St John's, Flamingo Marketing, G Adventures, German National Tourist Office, Grenada Tourism Authority, Hamburg Tourism, Hand Picked Hotels, Inghams, isango!, KE Adventure Travel, Ljubljana Tourism, Macao Government Tourist Office, Netflights, One Ocean Expeditions, Outrigger Resorts, Savoie Mont Blanc Tourisme, Thermae Bath Spa and The Gainsborough Bath Spa, Tourism Nova Scotia, Tourism NT (Northern Territory), Tourism Whistler, Travel Alberta, TrekAmerica, Turismo Lanzarote, Visit Aberdeenshire, Visit Belfast, Visit Brussels, Visit County Durham, VisitBritain, VisitDenmark and WOW Air.
Ends
EDITORS NOTES
Originally created by a travel journalist seeking a better way to research and report travel news, TravMedia is dedicated to creating thriving online communities of travel journalists and travel PR professionals.
The company currently operates in 11 countries: Australia, Germany, Dubai, United States, Canada, United Kingdom, India, Brazil, New Zealand, Hong Kong and Africa, and has amassed over 50,000 journalist and PR members.
In the UK, TravMedia and Food4Media are part of the family of websites that also includes Homes4Media.com and Property4Media.com, sites that are owned and operated separately by News4Media Ltd.
The technology used by the sites has become an essential tool for journalists and PR professionals in their day-to-day activities, as they connect and share information in their working lives.
Ends
For further information, please contact:
Ana Rodrigues
sit-UP Event Manager
T: +44 (0)20 3440 8914