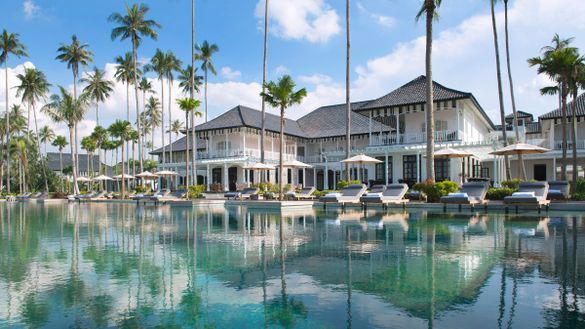 04 Dec 2018
Bintan's leading resort, The Sanchaya, is boosting its health and fitness offerings with the announcement of the first of an on-going schedule of visiting wellness experts throughout 2019, including renowned London-based performance coach and f i t n e s s a r t z founder, Artur Zolkiewicz, and Pilates specialist and personal trainer, Rosie Gregory.  Renewing The Sanchaya's commitment to offering their guests exclusive access to holistic wellness experiences, classes with these visiting experts are offered on a complimentary basis to estate residents.
With an elite clientele including A-list celebrities and models, Artur Zolkiewicz will return to The Sanchaya from 22 March to 1 April 2019, during which time he will host a class each day for in-house residents, in addition to offering bespoke personal training at an extra cost for guests who want to take their work out up a gear and address specific fitness goals.  Believing that helping your body to move better is the key to unlocking your fitness potential, Artur's daily classes are designed to leave participants feeling energised, using a series of stretches and cardio exercises to target the whole body, before focussing on stretching to revitalise weary body parts and controlled articular rotations to help guests assess their bodies and spot potential imbalances and dysfunctions. A nutritious menu of post-workout breakfasts and homemade smoothies will complement the classes.
Having graced the front pages of health and fitness magazines in the UK including Men's Health, Artur is determined to clear up any misconceptions held about fitness and training by tailoring exercises to each customer. He says, "With so much conflicting information out there about what's good and not good for your health, it's understandably hard for people to know the truth about what's healthful. I hope to answer any fitness-related questions the guests may have, as well as provide tips and advice on creating new yet sustainable habits and routines, which can be maintained as part of an on-going lifestyle choice following their time at The Sanchaya."
From 7-14 January 2019, The Sanchaya will welcome renowned Pilates specialist and personal trainer, Rosie Gregory, to complete a residency at the estate. Having worked with leading studios across Australia, London and Asia, Singapore-based Rosie specialises in sculpting, soulful and sweaty workouts that empower and uplift mind, body and spirit. During her time at The Sanchaya, Rosie will focus on a mixture of Pilates, Sculpt Method full body sessions and stretching classes, with morning sessions focusing on HIIT and full body workouts and afternoons dedicated to stretching and breathing.
To complement Rosie's classes, The Sanchaya will be offering an enhanced wellness menu throughout her residency, with highlights including Magic Matcha Tonic. A favourite of Rosie's, Matcha Tonic is known to boost health and wellbeing and has incredible effects on the mind and body, with benefits including enhanced metabolism, regulated blood sugar levels, reduced stress and blood pressure, improved memory and learning. 
Situated on the white sandy shores of Bintan island, less than an hour from Singapore, The Sanchaya is a stunningly tranquil property, ideally positioned to soothe and rejuvenate the mind, body and soul.  The estate has an on-going programme of visiting specialists, which has also included artists in residence, chamber music performances and a series of wine dinners hosted by French winemakers. A noteworthy more permanent expert at the estate is resident yoga instructor, Imron, who guides guests through a selection of practices during the complimentary morning yoga sessions at the Yoga Pavilion, or during private sessions, which can be organised on request. www.thesanchaya.com