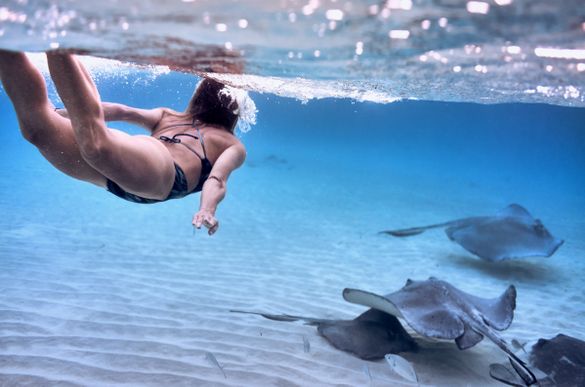 06 Feb 2018
Cayman Islands Department of Tourism launches 'Cayman Adventures'
Tags: Cayman Islands, family travel cayman islands, Grand Cayman, Kayaking, SUP Yoga, kitesurf, Kitesurfing, horse riding, Holiday, Caribbean, Adventure, Adventure Travel
---
The Cayman Islands Department of Tourism (CIDOT) has produced new collateral to showcase the more adventurous aspect of the Caribbean destination.
Based around the theme of 'soft adventure,' the two-minute video and library of stunning images highlight that there is more to life in the Cayman Islands than lazing around on the beach. The face of the campaign is ex-Olympic freestyle skier and fitness model Katia Griffiths, who competed in the women's halfpipe at the 2014 Winter Olympics in Sochi. The video showcases how Katia unwinds when she is not training in the snow and sees her kitesurfing, horse riding, kayaking through mangroves and trekking through the forest.
Don McDougall, Regional Manager for the Cayman Islands Department of Tourism, Europe commented, "It's a common misconception that the Cayman Islands is a fly and flop destination. In reality there are a whole host of adrenaline-fuelled activities that visitors can take part in. From kayaking, kitesurfing and scuba diving to SUP yoga and swimming with stingrays, the Cayman Islands are a natural playground for anyone looking for a new adventure.
Even when Katia isn't training she is still looking for ways to keep up her fitness levels and get her adrenaline fix. Cayman provided the perfect landscape for her break and she was able to pack a lot into her short time there as everything is in such close proximity, such is the beauty of island living."
The production of 'Cayman Adventures' comes after the CIDOT announced they were investing more in digital collateral. Their first ever TV advert was released at the end of 2017, which coincided with outdoor digital displays across the London Underground.
'Cayman Adventures' was produced by Jim and Tonic Films and James Carnegie Photography.  The film can be viewed here and the stills can be viewed here. [Please see Notes to Editors for usage rights].
British Airways flies to Grand Cayman four times per week from London Heathrow. For more information see www.caymanluxe.co.uk
ENDS
Notes to Editors:
Film and image usage rights: A credit in the name of photographer (James Carnegie)/videographer (James O'Garra, Jim and Tonic Films) for use on social media channels shall accompany the photograph whenever practical and/or in accordance with publication practice. Tags: @jamescarnegiephotography on Instagram and Facebook; @jimandtonic_films on Instagram. You should also use the social media tags for the CIDOT - @visitcaymanislands for Instagram; Europe Visit Cayman Islands and Visit Cayman Islands (Facebook) and @cayman_islands on Twitter.
There is a 30-second social media edit of the films available on request.
About the Cayman Islands: the Cayman Islands are a British Overseas Territory in the western Caribbean Sea. The territory comprises the three islands of Grand Cayman, Cayman Brac and Little Cayman, south of Cuba and northwest of Jamaica.