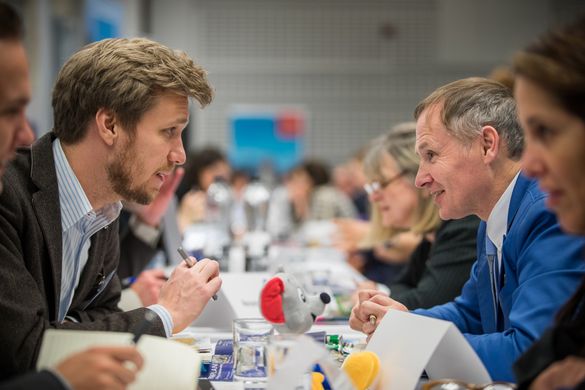 15 Mar 2017
A record 280 Journalists Attend IMM 2017, TravMedia UK's 6th Event Connecting Media & Industry
A record-breaking 280 travel journalists attended TravMedia's International Media Marketplace (IMM) in London this week, as all records for the annual event were shattered.
The day was sponsored by Brand USA, the destination marketing organisation for the United States, and saw over 6600 meetings pre-booked between journalists and exhibitors.
Attending the event at the prestigious QEII Centre were editors and writers representing publications including The Guardian, Daily Telegraph, The Sun, The Mirror, Daily Express, Wanderlust, National Geographic Traveller, Food and Travel, Family Traveller, ELLE, Bella, Cosmopolitan, Good Housekeeping, Radio Times, TTG and Travel Weekly.
Some 160 exhibitors from across the world's travel and tourism industry attended, with large delegations from countries including the USA, Canada, Germany, Italy and Scotland.
Among the brands making their IMM debuts were Abu Dhabi Tourism & Culture Authority, Cook Islands Tourism Corporation, Croatian National Tourist Board, Dubai Tourism, Isles of Scilly, Ras Al Khaimah Tourism Development Authority, Shangri-La Hotels & Resorts, Saga Travel, and Trainline.
Said Bridgett Hebert, Manager, Marketing Communications at Brand USA: "IMM is an effective event for Brand USA and our exhibiting partners to reach the UK's influential media. The IMM platform continues to provide Brand USA with a great stage to share our story as the destination marketing organisation for the USA, and to invite a wide variety of UK journalists to share that story with travellers.
"Our ability to connect with writers at this established conference enables us to communicate the depth and breadth of our destination and the experiences available in the United States."
Said Henry Hemming, TravMedia UK's Managing Director: "This year's IMM went one step beyond everything we've ever done, so we're all on cloud nine! Big shout out to all the journalists who came and to the exhibitors, sponsors and everyone else who helped make this a day to remember. Thank you all for your amazing support."
Ends
IMM 2017 EXHIBITORS:  Abu Dhabi Tourism & Culture Authority, AccorHotels Asia Pacific, Alabama Tourism Department, AmaWaterways, Antigua and Barbuda Tourism Authority, Arizona Office of Tourism, Asilia Africa, Aspen Chamber Resort Association, Atlantic Canada, Atout France, Austrian National Tourist Office, Bourgogne-Franche-Comté Tourism  Board / Jura Mountains, Brand USA, Brend Hotels, CaminoWays.com, Catalonia Tourist Board, Cayman Islands Department of Tourism, Choose Chicago, CityPASS, Club Med, Coastal Cottages of Pembrokeshire, COCO Collection, Colorado Tourist Office, Cook Islands Tourism Corporation, CoolStays, Croatian National Tourist Board, Daytona Beach Area CVB, Destination British Columbia, Destination Canada, Dubai Tourism, Düsseldorf Tourist Board, Eagles Villas, East Scotland, Emirates Spinnaker Tower, Europa-Park, Explore!, Federation of Hostelery and Tourism in Tarragona, Food & Drink Devon, Forsthofalm, Frankfurt Rhine-Main Region, Frontier Travel, Gastein Tourism, Gran Canaria Tourist Board, Grand American Adventures, Great Plains Conservation, Great Rail Journeys, Greater Houston CVB, Grecotel, Greek National Tourist Organisation, Hamburg Tourist Board, Hayes & Jarvis, Headwater, HF Holidays, Hong Kong Tourism Board, Hotel Nikko San Francisco, HotelREZ Hotels & Resorts, Inghams, Isles of Scilly, Italian National Tourist Board, Kandima Maldives, Kuoni, Landal GreenParks, Latin Trails, Lausanne Tourism Board, Le Tarn Tourisme, Leipzig Region, Ljubljana Tourism, London & Partners, Long Travel, Love Loch Lomond, made, Madeira Promotion Bureau, Maine Windjammer Association, Mall of America, Massachussetts Office of Travel & Tourism, Massimo Villas Collection, Michigan Tourist Office, Nashville – Music City, National Trust, New Orleans Convention and Visitors Bureau, NewcastleGateshead Initiative, Nira Hotels and Resorts, One Ocean Expeditions, Ottawa Tourism, Outrigger Resorts, People Make Glasgow, Perfect Stays, Philadelphia CVB, Preferred Hotels & Resorts, Ramblers Walking/ Chapters Experience Holidays, Ras Al Khaimah Tourism Development Authority, Regional Agency for Tourism Promotion "In Liguria", Romantic Cities, Saga Travel, San Francisco Travel Association, Savoie Mont Blanc Tourisme, Schladming-Dachstein, Seattle and Washington State, Scenic Air Safaris, Serenity Holidays, Shangri-La Hotels & Resorts, Slovenian Tourist Board, Snowmass Tourism, SouthWest Germany, Sovereign, Spain-Holiday.com, St Kitts Tourism Authority, Switzerland Tourism, Texas Tourism, The AMResorts Collection, The Basque Country, The Capital Hotel Tokyu, The Lake Geneva Region Switzerland, The Real Mary King's Close, The Travel Corporation, The View from The Shard, Thermae Bath Spa, Tongole Wilderness Lodge, Tourisme Québec, Trainline, Travel Alberta, Travel Manitoba, Travel Portland, Trentino – Dolomites & Lake Garda, trivago, Tualatin Valley, Turismo Lanzarote, U.S Travel Association, Uganda Tourist Board, Umbria Region, Verbier Tourism, Vicenza E' Convention and Visitors Bureau, Visit California, Visit County Durham, Visit Denver, Visit Flanders, Visit Kent, Visit North Carolina, Visit Orlando, Visit Portsmouth, Visit San Diego, Visit St Petersburg / Clearwater, Visit Tampa Bay, Visit Wales, Visit West Hollywood, VisitAberdeenshire, VisitDenmark, VisitEngland, visitportugal, VisitScotland, Voyages-sncf, and WOW air
EDITORS NOTES
Originally created by a travel journalist seeking a better way to research and report travel news, TravMedia is dedicated to creating thriving online communities of travel journalists and travel PR professionals.
The company currently operates in 11 countries: Australia, Germany, Dubai, United States, Canada, United Kingdom, India, Brazil, New Zealand, Hong Kong and Africa, and has amassed over 50,000 journalist and PR members.
In the UK, TravMedia and Food4Media are part of the family of websites that also includes Homes4Media.com and Property4Media.com, sites that are owned and operated separately by News4Media Ltd.
TravMedia has become the engine powering major global trade show media marketplaces and press rooms, such as U.S. Travel Associations IPW in America, AIME in Australia the annual convention of the Society of American Travel Writers, and many other white-label software solutions for organisations and events worldwide.
The technology used by the sites has become an essential tool for journalists and PR professionals in their day-to-day activities, as they connect and share information in their working lives.
Ends
For further information, please contact:
Howard Salinger, Regional Director
TravMedia UK
T: +44 (0)20 3440 8915
E: howard.salinger@travmedia.com 
Lauren Michôd
Vice President, Communications & International Relations
T:+1 (212) 808-0811 ext 107