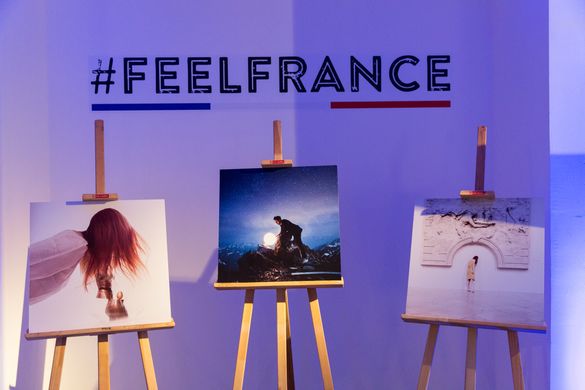 03 Mar 2017
This year's France Travel Media Awards were unveiled last night (1 March) at OXO2 in London, following a voting selection from 170 entries via the france.fr Facebook page and its 102,000 UK fans. A total of eight awards were given out in categories including City Breaks, Sport & Activity, Wine & Gastronomy and Social Media.
From energetic ski and city adventures to soaking up the sun en famille, and from the romance of Paris to the warmth of the Riviera, the different lifestyles and destinations of France were celebrated by an inspirational variety of articles. A shortlist of between four and six articles per category was selected from the record number of entries, before being posted on the france.fr Facebook page where fans were invited to read the articles and vote for their favourites. There was the chance to win a bottle of champagne for their efforts.
The winners were announced at a celebratory evening in the stylish surroundings of OXO2 in London's iconic OXO Tower overlooking the Thames. Compered by stand-up comedian Sean Collins, the evening was attended by more than 70 print and online journalists, as well as by representatives from 10 French partners – Occitanie Pyrenees Mediterranean, Toulouse, Aude & Carcassonne, Marseille, Normandy, Pays de la Loire, Auvergne, France Montagnes and Cultural France.
And the winners were…
BEST CULTURAL FEATURE
Rudolf Abraham for 'Designs on Dinosaurs' in FRANCE Magazine
(Nominees: Mark Stratton, FRANCE Magazine; Gillian Thornton, Voyage Magazine; Nick Trend, The Daily Telegraph/Telegraph Online; Sean Thomas, The Times)
BEST FAMILY FEATURE
Alexandra Green for 'Basque in the Sun' in The Western Morning News Saturday supplement
(Nominees: Sam Haddad, The Guardian/Guardian Online; Alex Goss, The Sun; Mark Barber, Familytraveller.com)
BEST REMEMBRANCE TOURISM FEATURE
Tim Hughes for 'Land of Memory' in Oxford Times
(Nominees: Frank Barrett, The Mail on Sunday; Mike Cowling, Yorkshire Life; Nigelle de Visme, FranceToday.com; Ian Murray, Hampshire Society Magazine)
BEST SPORT & ACTIVITY FEATURE
Mary Novakovich for 'Not your average ski holiday' in The Independent Online
(Nominees: Daniel Elkan, FRANCE Magazine; Judy Armstrong, FRANCE Magazine; Michael Cranmer, Beau Travel Ski Supplement)
BEST WINE & GASTRONOMY FEATURE
Rachel Khoo & Orla Thomas for 'Rachel Khoo's Paris Notebook' for Lonely Planet Traveller
(Nominees: Florence Derrick, easyJet Traveller; Philip Sweeney, Independent.co.uk; Sophie Denning, Condé Nast Traveller; Lucy Gillmore, Olive Magazine)
BEST SOCIAL MEDIA FEATURE
Janine Marsh for '5 of the most romantic places to kiss in Paris' for The Good Life France
(Nominees: Russell Alford & Patrick Hanlon, GastroGays; Jessica Dante, @jess_inlondon (Instagram); Sophie Davis, @sophiessuitcase; Michael Grenville, @gentlemansbutler; Rich McCor, @paperboyo (Instagram))
BEST CITY BREAK FEATURE
Anthony Peregrine for 'The City Break One – Lyon' in the Sunday Times Travel Magazine
(Nominees: Catherine Bennion-Pedley, Fabulous Magazine; Ben Clatworthy, The Times; Anna Brook & Alicia Miller, The Sunday Times Travel Magazine; Lara Dunn, FRANCE Magazine)
BEST DESTINATION FEATURE
Tristan Rutherford for 'Winter on the Riviera' in France Today Magazine
(Nominees: Nigel Tisdall, The Sunday Telegraph; Katharine Norbury, Lonely Planet Traveller; Ben Lerwill, National Geographic Traveller; Antonia Quirke, Condé Nast Traveller; Sasha Slater, Harper's Bazaar)
Aside from the media awards, the purpose of the evening was to offer the UK media a preview of Atout France's new pan-European #Feel campaign for 2017, due to be launched on 13 March.
END
For further information please contact
Anne Pedersen, Head of Public Relations Department, Atout France
anne.pedersen@atout-france.fr
Tel. 020 7061 6624, www.france.fr