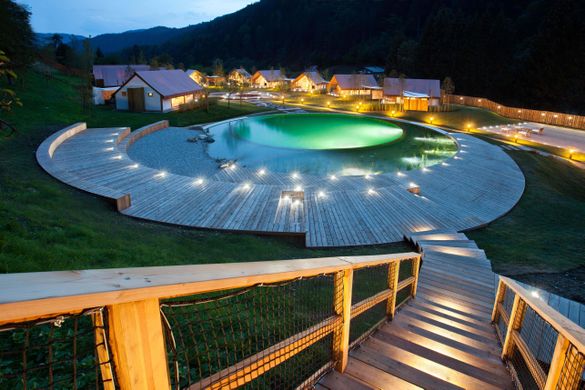 15 Feb 2017
ESCAPE THE COLD AND GET 'HYGGE' WITH PITCHUP.COM'S COSY PICKS
15 February 2017: As the cold days persist, outdoor accommodation specialist Pitchup.com has revealed the most 'hygge' holiday sites in Europe. Pronounced "hoo-gah", the Danish lifestyle concept is all about finding happiness and comfort in life's simple pleasures and making you feel calm, relaxed and cosy.
A perfect remedy to the UK's long and frequent cold spells, the art of hygge has been sweeping the nation. Think cosy fires, cuddly blankets, the glow of candles and hearty food.
Featuring over 2,600 unique and beautiful holiday sites, Pitchup.com offers an affordable opportunity to experience the charm of 'hygge life' during a mini break within the UK or Europe. From magical forest locations to warming camp fires, cosy wooden log cabins to restaurants serving up comfort food favourites, here the Pitchup.com travel experts reveal the most hygge outdoor accommodation on their books.
Swinton Bivouac, Masham, North Yorkshire:
This luxury site in the Yorkshire Dales offers glamping with a hipster vibe. Made from upcycled materials, the woodland and hillside lodges and yurts offer non-stop Instagram opportunities thanks to the quirky decorations and beautiful finishes. Kitted out with wood-burning stoves, rocking chairs and cosy nooks and crannies, the hygge spirit is alive and well at Swinton Bivouac. An outdoor hot tub and meals delivered directly to the door ramp up the luxury even further. The onsite cafe is not only super cute and offers the opportunity to enjoy delicious meals and drinks in the evening: it also boasts a family den leading to a walled garden. Local attractions include the 'miniature Stonehenge' druids temple, while nearby Swinton Park Estate wows with miles of picturesque moorland, rivers and dales.
Price: From £270 for two nights, sleeping up to seven people (£19.29 pppn)
Eco Camping Cabin, Isle of Mull, Scotland:
This Scandinavian-style wooden log cabin is the epitome of hygge and even comes with its own sauna and plunge pool. Surrounded by woods before the landscape opens out into rolling fields, mountains appearing on the horizon, guests will feel like they are starring in a romantic Wild West movie. If they are lucky enough, guests can even spot the Northern Lights in the dark, starry skies. Without electricity and running water, this back-to-basics retreat will encourage visitors to reconnect with themselves and nature whilst enjoying outdoor adventures such as horse-riding, fishing, cycling, climbing, sailing and wildlife watching. Escape the eco warrior existence for a little while with a trip to the nearby restaurant and indoor swimming pool.
Price: From £50 per night for up to four people (two adults, two children). (£12.50pppn)
Riverside Camping, Caernarfon, North Wales
Just a short drive away from the Snowdonia mountains and the Welsh coast, the spacious and well-equipped Riverside Camping is the perfect site to explore the beautiful countryside and enjoy outdoor adventures before warming up again in a cosy but spacious wooden three-bedroom lodge. Boasting hygge features such as a cupboard bed that guests have to climb into  - kids will love it - a freestanding roll top bath, plenty of candle lights and lanterns as well as a wood-burning stove, the modern rustic vibe of the pod is welcoming and friendly. Situated in a sheltered loop of the River Seiont - great for fishing, birdwatching, boating and paddling - Riverside Camping is surrounded by woodland and treasure trails. A covered picnic area and children's playground add to the appeal. If the weather doesn't show its best side, guests can get their hygge on by relaxing in the outdoor hot tub, enjoying a meal in the beautiful onsite Mill Bistro or making use of the free wifi.
Price: From £325 for four nights, sleeping up to six people. (£13.54 pppn)
Eko Resort Pod Veliko Planino, Godič, Slovenia:
Located in the Big Pasture Plateau in the Kamnik–Savinja Alps and just a 30-minute drive from  Ljubljana airport, this site focusses on both sustainability and wellness, allowing guests to get close to nature in comfort. The new wooden two-bedroom lodges are cosy and the resort also offers a sauna, massage treatments and free wifi. Onsite a small wildlife zoo, a beach near the Kamnik Bistrica river and a garden - where guests can pick their own seasonal organic vegetables - allow holidaymakers to immerse themselves in the stunning natural surroundings.  
Price: From £91.40 per night, sleeping up to five people (£18.28 pppn)
Herbal Glamping Resort, Ljubno ob Savinji, Slovenia
Set in a picturesque green mountain valley, the luxury safari tent holiday site really puts the 'glam' into 'glamping'. Based around the principles of herbalism - the use of plants for medicinal purposes - it features fresh, local plants and produce throughout its wellness facilities which include an outdoor pool, a hot tub, massage area and herbal pharmacy.  The tents are arranged around the communal fire pit and are kitted out with cosy beds, wooden flooring and their own private saunas. Scented herbal pillows and fluffy bathrobes are provided, while breakfast is included in the price.
Price: From £236.96 per night, based on four people sharing (£59.24 pppn)
Albinrondack Camping Lodge and Spa, Albi, Midi-Pyrénées, France
Spacious and modern, this beautiful holiday site offers a range of quirky accommodation from treehouses or a cool silver Airstream caravan, plus top-notch facilities. Guests can enjoy delicious food and drink by the roaring fire in the onsite restaurant with exposed stone walls and immerse themselves in the hot waters of the wellness and spa area with its heated pools, sauna and hammam. Nearby, the ancient city of Albi wows with plenty of history and French charm.
From £126.94 per night staying in a treehouse, sleeping up to two people. (£63.47 pppn)
Alpin Park, Sappada, Italy
Italy may not sound like the obvious place to look for  Scandi comfort, but the Alpin Park site  in the Belluno region near the majestic Dolomites bursts with rustic charm. The wood-clad double rooms in the hotel welcome guests with traditional comfort and modern touches like jacuzzi showers, perfect to warm up after a day on the nearby slopes. Meanwhile, the onsite taverna will lure hungry visitors with traditional hearty dishes such as fondue, cheese boards, roasts and crepes. A visit to the Sappada Adventure Park, the biggest amusement tree park of the Dolomites with 50 platforms on trees, 200 metres of climbing ropes, six long aerial trails and 500 metres of cableways, will burn off all those delicious calories.
From £84.63 for two nights for two people sharing a log cabin. (£21.16 pppn)
-Ends-
For media information:
Contact Jardine Howlett  at White Tiger PR
jardine.howlett@whitetigerpr.com 07834 196804
About Pitchup.com
Founded in 2009 by former lastminute.com man, Dan Yates, multi-award winning Pitchup.com lists over 2,600 outdoor accommodation locations in 36 countries in Europe, the Americas,  Africa and Australia, providing users with a simple platform where they can search for and book a holiday with ease.
In 2013 Pitchup.com became the first business of its type to launch a bookable mobile app and site, making the site easily accessible to users of mobile and tablet devices.  The mobile site, m.pitchup.com, now accounts for 33% of bookings.
Pitchup.com enables users to search for all types of parks and sites from more than 60 chains right through to one-off campsites and unique outdoor accommodation options, which may have previously lacked a web presence.
Awards include the Deloitte UK Technology Fast 50 2016, 'Best Place to Stay – Budget' at The Independent Travel Awards 2015 ("a website that's doing wonders connecting us with the countryside in Britain and beyond"), Best Travel / Leisure / Sports / Mobile Strategy / Campaign at the Marketing on Mobile Awards 2014, and Best UK Travel Website of the Year at the British Travel Press Awards 2011.