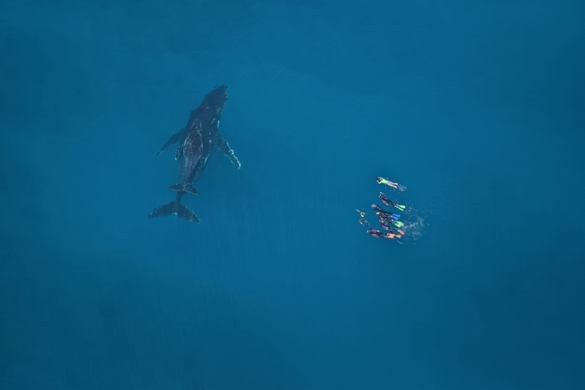 19 Jan 2017
Swimming With Ningaloo Humpback Whales Continues in 2017
Tags: Western Australia, Australia, humpback whales, whale swim, UNESCO World Heritage site
---
Announced on 18 January 2017, the Ningaloo Reef Humpback Whale interaction tours will once again be offered in Exmouth and Coral Bay on Australia's Coral Coast in Western Australia between August and November 2017.
The Western Australian Minister for Environment, Hon. Albert Jacob MLA, announced that the tours would continue in 2017. Reflecting on the 2016 season, the in-water swimming with whale tours were offered as a preliminary trial with results from the inaugural season (August to November 2016) seen as encouraging with 1644 people successfully experiencing swimming with these giants of the ocean.
Humpback Interaction Prices* for Adult swimmer, commencing 1 August 2017
Exmouth Diving and Whale Shark Centre
Owners Debbie and Mark Ferguson of Exmouth Diving and Whale Shark Centre said "After a successful 2016 swim program, our techniques and procedures have been proven in offering a unique whale swim tour at Ningaloo." Prices will be in the $400 bracket and will depend on the finalisation of Department of Parks & Wildlife procedures. The team are open for bookings via email.
Live Ningaloo
General Manager of Live Ningaloo, Sonia Beckwith, noted that "We had the most successful tours towards the end of the season in September and October (2016). We are excited for the year ahead! We will continue to put a (spotter) plane in the air and we put guests in the water with anything that is legal and safe to swim with." Live Ningaloo are already taking bookings on their website for Monday, Wednesday, Friday and Sundays. Price is $550 per person (seat booking) or $5000 to hire vessel exclusively up to 10 people (photos included).
Ningaloo Discovery
Owners Sarah Ellis and Matt Oakley say "Ningaloo Discovery are thrilled to continue to participate in this trial and strongly believe that there is a sustainable future for in water humpback whale interactions in Western Australia". Tour prices start from $350 for adults and $280 for children, email to book.
The existing 11 Whale Shark operators hold 13 licences and are the only operators legally allowed to operate whale interaction tours in Western Australia. This licence allows these businesses to extend the whale shark season (March to July in Exmouth and March to June in Coral Bay) into the humpback migration (July to November annually), making it more financially viable for industry operations.
To plan your next holiday to Ningaloo region, visit www.australiascoralcoast.com 
END.
Media & Images enquiries:
Suzanne Fisher
Marketing & PR Manager
+ 61 8 9321 9111
suzanne@australiascoralcoast.com
Read our other Media Releases via our Media Centre - www.australiascoralcoast.com/industry/media-centre 

NOTES.

Want to learn HOW the interaction tour works? Read more via these sources:

How the Tour Works including videos 
What it's like to swim with a Whale (point of view of staff/crew member)
Humpback in-water interaction success at Ningaloo - August 2016
Tour prices set for 2016 Humpback Whale Swim - February 2016