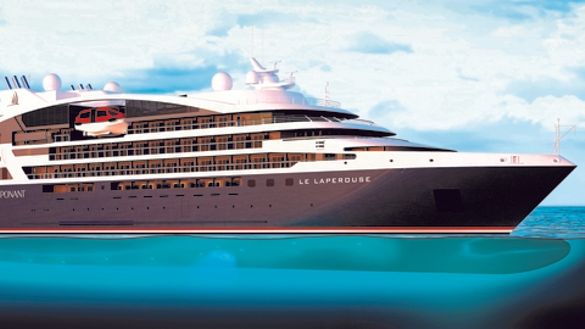 01 Jun 2017
Blue Eye: The Genesis of a Global First

In a world exclusive, the four ships of the PONANT explorers series are equipped with an underwater passenger lounge, called Blue Eye, located within the hull beneath the water line.

The design of this technical prowess was entrusted to architect Jacques Rougerie, who is deeply passionate about the sea. Rougerie's mission is to enable PONANT guests to perceive and feel the underwater universe that has never ceased to amaze and inspire him throughout his career.

"In my work, I have always had my heart set on making people aware of the role that the sea has played in the history of humanity. I designed this multi-sensory underwater lounge in order for it to become enshrined at the heart of the PONANT philosophy. I set out to discover this fragile and exciting ocean world, which covers 71% of the planet's surface and remains a huge mystery for mankind. The destiny of the civilisations to come will be born from the ocean."

"The state-of-the-art technology developed with PONANT lets guests become modern-day explorers, following in the wake of Jules Verne, Jacques-Yves Cousteau and the great adventurers. They will be able to observe the fauna and flora of this sub-aquatic universe and discover its sonorities. The sound system in the Blue Eye lounge will be installed by Michel Redolfi so as to reveal to the guests the amazing listening capabilities of their bodies. For the first time in the world, the public, during a cruise, will be able to 'feel' and be at the heart of an underwater world. They will need to use all of their senses."
Three Innovative Concepts For a World First
Bionic & biomimetic Jacques Rougerie drew inspiration from his observation of nature in order to determine the key elements that would underpin the design of the underwater lounge. The space's graphical references evoke cetaceans and jellyfish. This inspiration is evident in the lines of the lounge, the positioning of the body, the furniture and the fittings. All focus is drawn towards the two portholes, shaped like the eye of a cetacean and looking out upon the subaquatic world. The lighting in the lounge is developed through touches, disseminated in the space, allowing the spirit and the gaze to dive into the spectacle unfolding outside. The mural décor disappears to make way for the integrated digital screens projecting the images filmed live by three underwater cameras. Placed at the ship's strategic points, these cameras enable guests to witness, for example, the spectacle of dolphins playing in the bow waves.

Global listening The sound staging has been entrusted to Michel Redolfi, a contemporary music composer and sound design expert. A result of his research into subaquatic music and his own inventions, the sound design of the underwater lounge develops state-of-the-art technology and offers guests an experience in acoustic immersion that is unique in the world. Comfortably ensconced, guests can listen to the underwater world thanks to hydrophones, developed in consultation with specialists from the French Research Institute for the Exploitation of the Sea (IFREMER), that are integrated beneath the keel. The natural symphony of the deep sea is thus captured across a five-kilometre radius and transmitted live into the lounge in the form of acoustic waves spreading through the three dimensions of Jacques Rougerie's architecture.

An immersive sound experience can be felt in the Body Listening sofas, which discreetly vibrate in unison while offering unique sensory listening through corporal resonance. This global listening through the entire body, in harmony with the ocean's natural cycles, will bring guests closer to the marine mammals they might see and hear behind the giant portholes. This exclusive sound experience is also offered through subaquatic concerts broadcast at sea or in the swimming pool.
Innovative underwater vision The non-intrusive underwater projectors developed expressly for the PONANT Explorers enable the observation of the of the seabed and photo-luminescent organisms from the Blue Eye lounge as well as from the outside decks, balconies and the marina-without any risk to the marine biosphere.

About the PONANT Explorers 

PONANT, the polar expedition leader and pioneer, is expanding its unique luxury expedition cruise concept with the arrival of four new sisterships, the PONANT Explorers. PONANT guests will be able to enjoy new travel experiences, such as tropical and subtropical expeditions. Offering a unique blend of discovery and exceptional comfort, even in the most remote corners of the world, is our hallmark.

Le Lapérouse, Le Champlain, Le Bougainville, Le Dumont-d'Urville The four new stars of our fleet pay tribute to the great French explorers and will carry guests in the wake of these men who, long ago, set off for adventure in search of new lands. Taking inspiration from these navigators was a natural choice for PONANT, the only French cruise line to sail to little-known, remote lands that are inaccessible to larger ships.

Le Lapérouse and Le Champlain will join the fleet in 2018, followed by Le Bougainville and Le Dumont-d'Urville in 2019.

In keeping with our cruise line's philosophy, each ship combines a limited guest capacity, sleek design, cuttingedge technology, and respect for the environment. They will enable PONANT to offer an ever-wider range of destinations.

Abount PONANT
The only French-owned cruise line and the world leader in luxury expeditions, PONANT was created in 1988 by Jean Emmanuel Sauvée and a dozen officers of the French Merchant Navy. Today, PONANT is leading the way with a new style of luxury cruising through a unique conception of sea travel which combines exceptional itineraries and luxury hotel services, aboard luxurious smaller-scale ships. www.ponant.com

Press Contacts: Alexandra Olivari | + 33 4 88 66 65 | aolivari@ponant.com Laure Foulatier | + 33 4 88 66 64 38 | lfoulatier@ponant.com